Testimonial of: Capt. Pete Silot- Four years using Air-Tight Hubs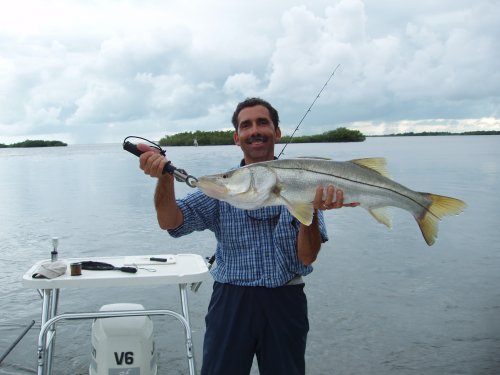 Capt. Pete Silot- Four years using Air-Tight Hubs:Posted July 17, 2008
Recently I felt compelled to write a second testimonial for Air Tight Bearing Protectors. One that has a little history… or better yet a little mileage!

I've been running the Air Tight Bearing Protectors since early 2004. Shortly after installing this system. I realized what it was like to trailer my boat without worrying about the condition of the trailer bearings, grease leaking from seals or when was the last time I had grease the bearings.

I had kept a spare hub, which I was confident that I would not need. But kept it in case, I could use to help a friend out of a bad situation. As it turned out, early one morning that spare hub saved a fishing trip for a family in Flamingo, Everglades National Park.

Well after over 40 thousand miles, the same Air Tight Bearing Protectors that after
4 years of protecting the trailer bearings and grease of water intrusion and contaminates. Was still holding air pressure! I thought that it was time for a little preventive maintenance. So I purchased new bearings and contacted Air Tight to have them installed along with new seals. To my surprise when we took the old bearings out. The bearings and races only had minimal signs of wear…You guess it. I had them put the old bearings back in with new seals. That's how confident I am about Air Tight Bearing Protectors.

I once heard a salesman say "quality remains long after the price is forgotten." Do yourself a favor and get the peace of mind that comes from running Air Tight Bearing Protectors on your trailer.