Testimonial of: Capt. Alan Sherman from "Get Em" Charters Inc.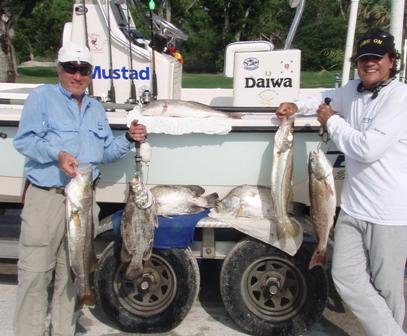 Capt. Alan Sherman from "Get Em" Charters Inc.: Posted January 8, 2007
Henry,

I am a fulltime inshore light tackle guide in South Florida and I have to trailer my 22' Pathfinder Bay boat to where the fish are biting and to the locations my clients want to fish. Before discovering Air Tight Bearing Protectors I would have to grease my bearings every month to make sure that the bearings did not get saltwater on them. The process was very messy requiring a grease gun and grease. No matter how careful I was I always had grease all over my hands, pants and anything else I came in touch with. I hated it but there was no other choice. Since having Air Tight Bearing Protectors installed over a year and half ago on my dual axle Continental trailer I no longer worry about bearings going bad on long drives to Flamingo, the Florida Keys and Key Biscayne. One quick glance at the air pressure gauge and I know my Air Tight Bearing protectors are working. After thousands of miles of trailering my boat I have not had one bearing failure.No more Grease or grease guns! Air Tights has saved the day. No more mess! No more worry!

Thanks Again Air Tight!
Capt. Alan Sherman
"Get Em" Charters Inc.
http://www.getemsportfishing.com