Step 2: Select a product in "7000 and 8000 LB Axle Kit - 8 lug hubs"
The Universal Kit will eliminate the need to measure your spindle. Air-Tight's Universal Kit comes with (3) different inner dimension size shims. One or none of the shims may be used in putting on the stainless steel bushing.
Note: The universal kit for the 5 lug/ 3500lb has 3 shims. The universal kit for the 6 lug/ 5200 - 6000 and the 8 lug 7000 - 8000 lb has 1 shim.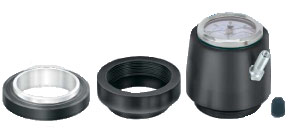 Full Kit Components
Universal adaptor ring, hard-coat anodized
Bushing, stainless steel
Super SealTM
Air pressure gauge unit cap, hard-coat anodized
Fill valve, bronze with nickel plating
Bonding agent
Shims
Seal Specifications
ID 2 1/2
Double-lip
Specially molded composition
Gauge pressure recommendations
Continue: Select Qty Of Kits >>
---